lifestyle
Steps to make your house chemical free
I am a bit of a germaphobe and has borderline OCD (obsessive cleaning disorder) which is a trait passed down by my mum I guess. Cleaning can sometimes be therapeutic, but definitely not when the strong chemicals in your cleaning products start stinging and burning you eyes and nose.
I had never thought of using cleaner or chemical-free products until my child was born. That was when I started paying more attention to the stuff in my everyday products.
when I finally made the decision to go chemical-free, it was very overwhelming to think about throwing away all the regular products I used, but I had to start some where so thats what I did. I threw or gave away some of the products that I regularly used like the disinfecting wipes, bleach filled cleaners and even some of my toiletries.
Now you don't have to be like me and throw away everything all at once. But you can start by making small changes which I'm going to tell you how.
Focus on one room at a time,
Start with your kitchen. Replace the surface cleaner that you use right now with an essential oil-based natural one or just make one yourself with water and vinegar. Two brands that I like the most are Seventh generation and Mrs. Meyers all purpose cleaners. I use this basically on all surfaces in the kitchen, bath. or bedroom, though I still use a bleach based cleaner for the toilet bowl.
Mrs.Meyers all purpose cleaner
Replace your dishwashing liquid with a more non-toxic one. I love using the Method dishwashing liquid. It is vegan and triclosan free which is the main culprit in most of the regular cleaning products.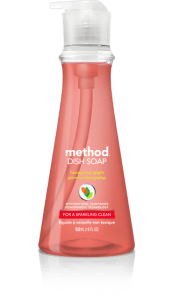 Then you can move on to your laundry room and swap out the laundry detergent with a chemical-free one. Some of the best-rated green and clean laundry detergents are
Grab Green Natural 3 in 1 Laundry Detergent Pods, Lavender + Vanilla-With Essential Oils
Switch to a more reasonable Dryer balls option rather than using the dryer sheets.
For your personal use,
Start by swapping out your body wash, shampoo and conditioner. Try to find sulfate-free or paraben-free vegan products.
Tip: Chemical-free or non-toxic products do not lather much than their regular counterparts because they do not contain chemicals like sodium lauryl sulfate (also known as sodium laureth sulfate) and other chemicals whose sole purpose is to make the products more frothy.
I find the Avalon Organics Biotin B-Complex Thickening Shampoo to be very effective and I also like the body wash by Alba Botanica Very Emollient which comes in a variety of natural fragrances.
These are some of the most basic products you can start swapping . Slowly but surely you can go on to replace your skincare, makeup and just about everything you think can make your's and your family's life more non-toxic and chemical free.